New Years Eve is one of the most highly anticipated nights of the year. Millions of people party until the clock strikes midnight to sing Auld Lang Syne and toast a "happy new year", and this year people can't seem to wait.
The world seems to be going crazy for the beginning of 2017, the new year. Social media have created a vendetta against 2016 because of all of the "terrible" things that have happened in the past 12 months. But is it really going to be any different in 2017? And is it really any different from any other year?
Orlando shootings. Terrorist attacks. Famous deaths such as David Bowie, Alan Rickman and most recently Carrie Fisher and mother Debbie Reynolds. Trump. Brexit.Harambe. All are reasons why social media are hating on 2016 and are ready to start again in 2 days time on January 1st 2017.
But what people are failing to realize is that 2017 is not a new start, it's simply the beginning of a new calendar year. A technicality. When everyone wakes up on January 1st, the only thing that will have changed since December 31st is that instead of being drunk they'll be hungover.
As unfortunate as it is, the world isn't just going to magically fix all of it's problems when 2017 rolls in. The same social, political and economic issues will still be going on. This doesn't mean that time won't change them, but don't make the mistake of thinking this will be the year. These are not Disney problems that are solved when the Prince kisses the Princess before clock strikes midnight.
There isn't a 2017 wizard or fairy who is going to fly across the earth and wave its wand bringing all of the people we lost back and accomplishing world peace.
Many of the things that have happened in 2016 are going to continue in 2017. Brexit negotiations will be continuing, the quest to "make America great again" will be underway and there is still a high terrorist threat. As much as 2016 has been a complete headache, nothing is likely to change that dramatically.
This is not to say that 2017 won't be a good year, but 2016 wasn't all bad either. There have actually been so many really positive things happen this year but no one is talking enough about them.
The tiger population has increased for the first time in 100 years from 3,200 in 2010 to 3,890 in 2016. Tim Peake completed six months in space. Leonardo DiCaprio won his first Oscar. The gene related to ALS was discovered helping scientists to find a cure for the disease. Dolce and Gabbanna debuted their first designer hijab range. The Rio Olympics saw Britain become the first country in history to improve their home medal haul from 2012 gaining 67 medals. Specially designed glasses have been invented to help people see colour again.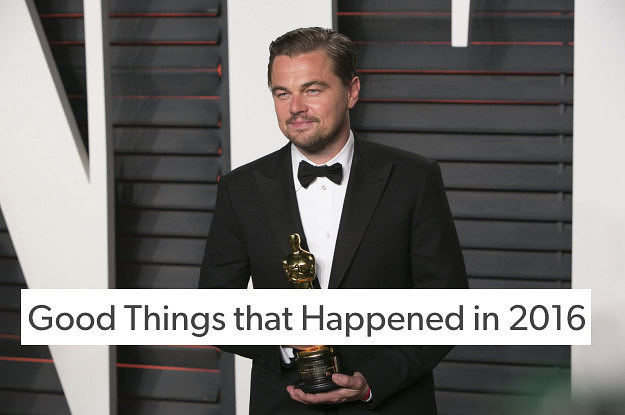 And it's not just big things like that that made 2016 good, a lot of people had amazing personal memories this year. People traveled, they got married, they started families, they made memories with friends, they got their dream job, they overcame illness.
Admittedly, these things didn't solve all of the worlds problems, but they have made a difference to a lot of peoples lives. Maybe instead of focusing on how bad 2016 was and how much better 2017 will be, we should be celebrating the good that happened this year and reveling in the excitement for the good that can come from next year.
Happy New Year.